Who Says Space Quest Is Dead? (Page 5)
Xandra: Nooo problem. Now... how do you reckon we get outta here? (Roger notices that the slippery liquid has formed a wide barrier between them and the transport pad. He looks at Xandra with a perplexed expression.)
Roger: I... I... I have no idea.
Xandra: Well, I do (she suddenly shoves Roger forward). You first!
(Roger flails his arms around and dances frantically on the slippery surface to avoid losing what little balance his cerebellum retains. It looks like he is going to slip and fall in a few seconds, but amazingly, although all the odds are against him, he makes it to the other side unscathed.)
Xandra: Wow. Youíre even more luck -- ahem, agile than I thought you were. Yep, youíve got nerves of silk, Roger.
Roger: Silk???
Xandra: Yeah, silk. Itís stronger than steel, didnít you know that? Now, I think Iíll just -- OOOOMPH (she casually steps onto the floor and immediately slips and crashes into it face-down. Roger is desperately trying not to laugh as she slowly looks up at him.)
Xandra: I guess your luck decided to change places with mine. Whoopie. (she slowly drags herself across the sticky floor to Roger, then rises to her feet and shakes herself off, splattering everything in the vicinity.)
Roger: Oh, Xandra!!
Xandra: I think we both needed that.
Roger: I have to clean this whole level now!
Xandra: No way. Someone who saves a spaceship is excused from doing janitor work.
Roger: I guess youíre right...
Xandra: Until Kielbasa finds out! Heh-heh-hehhh...
Roger (exasperated): Oh, Xandra...
Xandra: Oh Roger, could you just shut up for a minute? Letís go back to the main level, okay? Weíll talk. (She and Roger take the tube back to the main level, where they once again seat themselves in the flashy, slightly uncomfortable plastic chairs.)
Xandra: I shouldíve known... trying to replace the best janitor on the ship with a bunch of dumb droids! What a crazy idea!
Roger: Actually, Iím the only janitor...
Xandra: I know. But "best" sounds better than "only." No one and nothing could ever replace you. Thatís one thing Iím certain of. Youíve got style, youíve got a nice face, and your intellect...
Roger: ... is nonexistent, I know...
Xandra: No! Whoever told you that? By golly, youíre not stupid, Roger! (standing up on her chair and glaring at him menacingly) These days people can call other people whatever they want, and half of the time, they donít know this other person any better than themselves! Youíd think these so called "smart" people would just keep their big mouths shut, but NOOO! Itís just yakkety-yakkety-yak, non-stop round-the-clock JAW-BONING! Youíd think these zeebs who keep stabbing people with their opinions would just take their biased baloney and DROP IT!
(Xandra stamps her foot down on "drop it" and her shorts fall down. Several crewmembers standing nearby, attracted by the previous noise start snickering and turning away. Xandra sneers in fury.)
Xandra (growling as she pulls her shorts back up): Ooooh, I shouldíve worn a belt -- it would come in pretty handy now... rrrgh... When this "reversed luck trend" of ours is over, youíd better hold onto your pants, Roger.
Roger (looking off into the distance): Iím not looking... Iím not looking...
Xandra: I know something else youíre not doing, Blondie. (cooling down) Ahh, what am I saying... now where were we? Oh yeah:
Youíre not stupid, Rog. You just... take time to think before you act... you carefully work your moves out in your head... that takes time.
Roger: And usually a lot of dumb luck.
Xandra: No arguments there, Roger. (she leans back and sighs quietly.) Sooo... Roger? What would you say the ten most essential rules for being a space hero are, eh? Ever think up a list?
Roger: I have, actually, but Iíve never worked it all out.
Xandra: Ohhh, tell me! I can help you work it out!
Roger: Okay... (Ahem)... Number One: Never press buttons labeled "Donít Touch"...
Xandra: Mmm-hmm...
Roger: Number Two: Always buckle up, unless there arenít any seat belts...
Xandra: Yes...
Roger: Number Three: Always help people, creatures, and anything else along the line...
Xandra: Number Four: If you follow the previous rule with a wounded Orat and lose all four of your limbs, forget all the previous rules.
Roger: Number Five: No. Number Six: Pick up anything that isnít nailed down...
Xandra: Thank you, Roberta Williams.
Roger: Seven: Never discuss your ways of life with a felinoid...
Xandra: Hey!!
Roger: Number Eight:...
Xandra: "If you canít say something nice, shut your trap?"
Roger: Close. Number Eight: Always look before you leap...
Xandra: Yeah...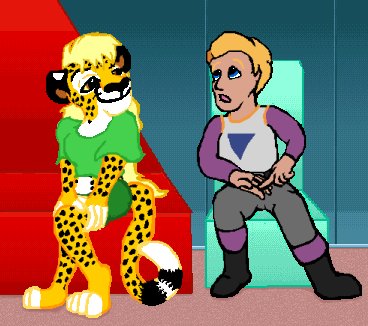 Roger: Number Nine: Always remember that dirty underwear is better than no underwear... and Number Ten:... NEVER suck face with an alien unless youíre sure of its species and/or hormone level.
Xandra (sitting in a seductive pose): Hmm... sounds like you put a lot of thought into that last rule, Roger.
Roger: I know. I did.
Xandra: And youíve never done that, have you?
Roger: No way! Any alien that tried to kiss me Iíd have licking dirt before -- MMMMPH!!! (as Roger talks, Xandra suddenly leaps to her feet, clamps her arms around Rogerís neck and gives him a very amateur, over-moistened smooch on the lips. During the few seconds she holds her muzzle against his, Rogerís muffled screams and struggles can be seen and heard. Finally, Xandra releases her lip-lock and returns to her seat.)
Roger (wiping his face and spitting out pieces of cat hair): Yeuck!! Hairball! Hairball! Bbbleagh!! (turning to Xandra) Why you sneaky little...

Xandra: Keep your shirt on, Rog. Iíve had my shots! Yíknow, another excuse for SQ7 being canceled was the fact that the creators couldnít come up with anything you havenít done.

Roger: Well, I have done just about everything a normal person could do...

Xandra: But youíve never been kissed by a felinoid, have you?

Roger: Well... I have now...

Xandra: And thereís a lot more you havenít done yet, Roger. A lot more.
Page 1 | Page 2 | Page 3 | Page 4 | Page 5 | Page 6 | Page 7